"Real estate investing, even on a very small scale, remains a tried and true means of building an individual's cash flow and wealth." ~ Robert Kiyosaki, Author of Rich Dad Poor Dad
As real estate investors, Kirby and Sheila Gallagher understand the value - and risks - of buying property for investment purposes. Kerryhill can help you with the selection, purchase and maintenance of your real estate investment.
We'll work with you to:
Select the right property for your investment needs
Define the three types of return: Cash flow, principal paydown, and equity growth
Determine your risk level
Assess local market conditions: jobs, population growth, income
Provide an investment analysis for each prospective property
Provide a Lease document and Rental Application
Help with tenant selection
Define the pros and cons of property management
and much more ...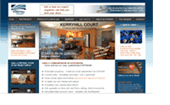 KERRYHILL'S CONDOMINIUM CONVERSION PROJECT
In 2012, Kirby and Sheila Gallagher purchased two apartment buildings, 51 units in Deep River, Ontario. After 14 months, the apartment complex was legally converted to 51 condominiums, a process called
Stratification
. Immediately upon conversion, each unit was worth three times it's purchase price; one of the benefits of a "change of use" - changing a property from a single titled building into condominiums. Stratification is no small endeavour, but one that can be very lucritive.
Today, 5 (from 28) suites remain unsold in building 1. Approximately 50 percent of Solds were purchased by investors - most making an annual return on investment (ROI) of more than 30 percent. E.g. Purchase price $171,900 with a monthly rental of $1600.
Contact us if you're interested in learning more about investing in Kerryhill Court Website.



PROPERTY MANAGEMENT
When you own investment property, it needs to be managed. Kerryhill provides property management services for both residential and commercial properties. Our management team works with you and all involved - those from the front line to the support staff. We all share the same dedication to the success of your investment.
For the investor who self manages and simply needs advice, Kerryhill provides these services:
Land and property acquisition and development
Development management including municipal permits and approvals
Project management
Leasing, marketing and property management
Redevelopment of existing properties
Property acquisitions and dispositions
Due diligence coordination
Short term managerial support
So, whether it's a single family home, row house, condominium apartment or commercial building - and whether you're looking for cash flow or equity growth, Kerryhill can help you define and meet your investment needs.

"Now, one thing I tell everyone is learn about real estate. Repeat after me: real estate provides the highest returns, the greatest values and the least risk." ~ Armstrong Williams