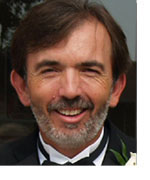 Kirby J. Gallagher, CEO, Project Manager, Licensed Realtor

|

Email

Kirby Gallagher heads the commercial division - ensuring the delivery of sales and acquisitions, leasing and project management projects. Kirby also joins Sheila Gallagher for all residential services - including meetings with clients, showings, etc.

Kirby Gallagher's 34 years in commercial real estate has equipped him a high level of knowledge and experience. Prior to becoming a principal of Kerryhill, Kirby was Assistant Vice President of Real Estate for Sun Life Assurance Company of Canada; he was responsible for their 5.4 million square foot Sun Life commercial real estate portfolio in Eastern Canada. During his career, he has held senior management positions with a wide array of firms such as Manulife Financial, Clarica Life Insurance Company, Canderel Limited, and Prudential Insurance Company of America in Toronto.

Kirby is a graduate of the Real Estate and Property Management Program from Algonquin College of Applied Arts & Technology, acquired his RPA (Real Property Administration) designation from the Building Owners and Managers Institute International, and his commercial real estate license from the Ontario Real Estate Association. He is a past member and previous director of BOMA (Building Owners and Managers Association) Ottawa and BOMA Toronto.